Passport Stamps in the National Aviation Heritage Area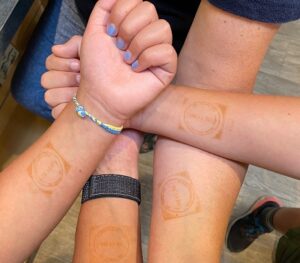 When my family visits a National Park or affiliated site, we stamp our arms instead of the little blue passport stamp book sold in park gift shops and online. This tradition started several years ago when my kids were really into Harry Potter. We called the stamps "our dark marks." Now, a quick search in Google Photos for "arms" reminds me of all the parks we've been to.
Park passport (or sometimes called "cancelation") stamps are fun whether you are pretending to have a tattoo or a serious collector. There are 423 park units in the National Park Service and each unit may have multiple stamps. Affiliated sites such as the National Aviation Heritage Area offers stamps as well. I've seen an estimate that there are upwards of 2,000 different stamps to collect.
Here is a list of unique passport stamps in the National Aviation Heritage Area:
– Armstrong Air & Space Museum (Wapakoneta, Ohio)
– Champaign Aviation Museum (Urbana, Ohio)
– Grimes Flying Lab (Urbana, Ohio)
– WACO Air Museum (Troy, Ohio)
– Woodland Cemetery & Arboretum (Dayton, Ohio)
– Wright B. Flyer (Miamisburg, Ohio)
National Aviation Heritage Area stamps say "Aviation NHA" around the top and the site name around the bottom of the stamp. The stamp includes the exact date as well. Each location has the orange ink assigned to park and affiliated sites in the Midwest. Please note that some National Park and some Heritage Area sites charge an entrance fee. You do not have to pay to get your passport stamp, but I encourage you to explore the sites you visit.
And remember that the Dayton Aviation Heritage National Historical Park and Charles Young Buffalo Soldiers National Monument are located within the National Aviation Heritage Area. Both parks have multiple stamps, and Dayton Aviation Heritage NHP has multiple sites. Those sites include:
–Wright Cycle Shop (and Wright Dunbar Interpretive Center (16 S. Williams, 45402)
–Huffman Prairie Flying Field Interpretive Center (2380 Memorial Rd, 45433)
–Wright Brothers National Museum at Carillon Park (1000 Carillon Blvd, 45409)
–Hawthorn Hill (start at 1000 Carillon Blvd, 45409)
–Paul Laurence Dunbar House (219 N. Paul Laurence Dunbar St., 45402)
At the Wright Cycle Shop, there are two rare cancelations stamps. One celebrating the 2021 NASA flight and naming of Wright Brothers Field on Mars. The second is a brand-new cancelation stamp (debuting February 2022) for the Wright Company Factory.
As you are out in the National Aviation Heritage Area getting your passport stamps (either in books or on your skin), please share your pictures at #ComeDiscoverFly or tag the National Aviation Heritage Area on all major social media platforms.
P.S. Rubbing alcohol removes the ink with ease.