AOPA OFFERS NEW AVIATION HERITAGE BADGE IN THEIR PILOT PASSPORT PROGRAM
For the first time, the Aircraft Owners and Pilots Association (AOPA) is offering an Aviation Heritage badge through the AOPA app's Pilot Passport available in the Google Play or App Store. AOPA worked with the National Aviation Heritage Area to develop the list of eligible sites and airports.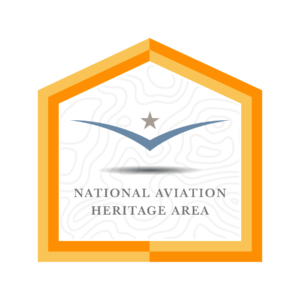 Pilots or non-pilots who visit and check-in at 10 museums and 10 airports in the National Aviation Heritage Area and at First Flight Airport in Kill Devil Hills, North Carolina, will earn a Gold National Aviation Heritage Area badge; those who check-in at eight each will earn a Silver badge, and those who check-in at four each will earn a Bronze badge.
A stop at First Flight Airport is needed to earn the gold badge because of its significance to the Wright brothers' powered flight efforts. While the brothers did most of their work on the aircraft in Ohio, they first flew at Kitty Hawk, North Carolina. Pilots who fly to the airport can also visit the Wright Brothers National Memorial.
Visiting and checking in at the following Ohio landing facilities, museums, and heritage sites count toward badges.
Landing facilities
• Grand Lake St. Marys Seaplane Base
• Neil Armstrong Airport
• Grimes Field
• Springfield-Beckley Municipal Airport
• Greene County-Lewis A. Jackson Regional Airport
• Piqua/Hartzell Field
• Waco Field
• Dayton-Wright Brothers Airport
• James M. Cox Dayton International Airport
• Moraine Air Park
• Sidney Municipal Airport
• Red Stewart Airfield
Museums and historic sites
• Dayton Aviation Heritage National Historical Park Visitor Center and Aviation Trail Parachute Museum
• Wright Brothers National Museum at Carillon Historical Park
• Wright "B" Flyer
• National Museum of the United States Air Force
• National Aviation Hall of Fame
• WACO Air Museum
• Champaign Aviation Museum
• Grimes Flying Lab
• Armstrong Air and Space Museum
• Huffman Prairie Flying Field
• Wright State University Libraries' Special Collections and Archives
• Woodland Cemetery and Arboretum
Many of the areas highlighted make wonderful day trips and family outings, like the National Museum of the United States Air Force. Another great destination that could take up part of a day and provide the opportunity for multiple check-ins is Grimes Field. Check off one airport and two museums by flying to Grimes Field. The Champaign Aviation Museum and Grimes Flying Lab are both located at Grimes Field. (And if you want to add another check-in, stop in at the airport restaurant for a meal and some delicious pie and check-in for the $100 Hamburger Airport Amenity badge.
If you share your National Aviation Heritage Area visits on social media, use the #ComeDiscoverFly hashtag.