5 Success Mansions to Inspire your 2021 Style
While we are at home, staying in from the cold, we are working on home projects. For some, that means new hobbies hung proudly on the wall, for others that means boxes of materials or DIY furniture arriving on doorsteps.
Big or small, here are some famous Success Mansions to help inspire your style this year.
Hawthorn Hill – Orville Wright
With its white pillars and twin porches, Hawthorn Hill has long been synonymous with Orville Wright and the Wright family. After purchasing property at the corner of Salem Avenue and Harvard Boulevard in Dayton, OH, the Wright brothers' younger sister, Katharine Wright, soon cajoled her world-famous brothers to move construction to Oakwood's rolling, idyllic hills.
You can join the ranks of Charles Lindbergh, Henry Ford, and Thomas Edison as visitors to the world's first pilot's last home. When Orville died on January 30, 1948, Hawthorn Hill was purchased by National Cash Register (NCR) for use as a corporate guest house. For 58 years, the historic home was wonderfully preserved and is now open to the public through tickets purchased at Carillon Historical Park.

Graceland Mansion – Elvis Presley
The tour of Graceland Mansion in Memphis, TN includes the living room, his parents' bedroom, the kitchen, TV room, pool room, the famous Jungle Room, his father's office, the newly-enhanced Trophy Building, the Racquetball Building – newly-restored to how it looked in 1977, and Meditation Garden.
Explore the famous Jungle Room with its green shagged carpets, Polynesian feel, and exotically carved wood. This room was once the exterior access to the basement. In the 1960s, during one of Elvis' home improvement projects, it was added to the back of the house – first as a screened-in porch and then closed in as a room a few years later. In 1974, Elvis redecorated with the current furnishings he stumbled upon at a Memphis furniture store. This room became a family favorite and Elvis liked it in part because it was reminiscent of Hawaii, where he enjoyed vacationing, film-making, and performing.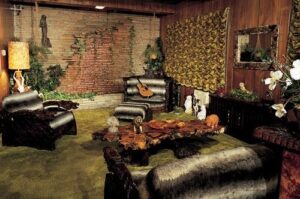 Villa Lewaro – Madam C. J. Walker
In Irvington, NY, there stands Madam C. J. Walker's "Villa Lewaro," a restored historic residence that embodies the optimism and perseverance of the American entrepreneurial spirit.
Born Sarah Breedlove in 1867 in Delta Louisiana, where her parents and elder siblings were enslaved, Madam Walker became a cosmetics and business pioneer. Developing beauty and hair products for black women, Madam Walker trained nearly 23,000 sales agents and workers, serving customers in the United States, Central America, and the Caribbean. Recognized by the Guinness Book of Records for being America's first, self-made female millionaire, Madam Walker's achievements in the face of racial challenges of 20th century America are impressive and without comparison. The preservation of Villa Lewaro reminds us about her remarkable life once lived.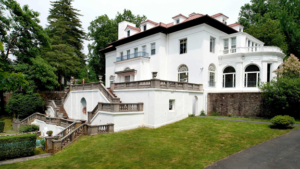 Indian Palms Resort – Jackie Cochran and Floyd Odlum
In the 1930s, Floyd Odlum (owner of Hollywood's RKO Pictures) and his wife, Jackie Cochran (a world-famous aviatrix) had a dream… a dream of an especially beautiful place in the desert. The young couple fell in love with the 640 acres, which is now home to Indian Palms Country Club and Resort (located in Indio, CA). They purchased the land for less than $100 an acre and built The Ranch House. Featuring timeless views of the beautiful Santa Rosa Mountains and plenty of sunshine, the couple entertained famous friends, movie stars, and presidents.
The famous aviatrix was the first woman to break the sound barrier, and she did so flying solo over Indio. On December 17, 1971, she was the first living woman enshrined in the Aviation Hall of Fame in Dayton, Ohio. She, along with Helen Detweiler, the first Professional Golfer at Indian Palms, designed and opened the first nine holes in 1947.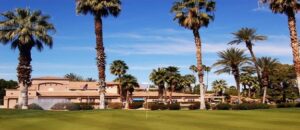 In 1873 Sam and Olivia Clemens engaged New York architect Edward Tuckerman Potter to design their Hartford Home. Construction began in August of that year' while Sam and Livy were abroad. Although there was still much finish work to be completed' the family moved into their house on September 19' 1874. Construction delays and the ever-increasing costs of building their dream home frustrated Sam.
Their home measures 11'500 square feet' and has 25 rooms distributed through three floors. It displayed the latest in modern innovations when it was built in 1874. The couple spent $40'000 to $45'000 building their new home' so once they moved in they kept the interior simple. Mark Twain and his family enjoyed what the author would later call the happiest and most productive years of his life in their Hartford home. Sam's mounting success as a writer and lecturer enabled the Clemenses to do up their new house in grand style. In 1881' they contracted with Louis C. Tiffany & Co.' Associated Artists' (Tiffany was the son of the founder of the famed jewelry store' Tiffany & Co.) to decorate the walls and ceilings of the public spaces in their home' particularly the newly enlarged entry hall.