Spend the day or make it a weekend adventure exploring Historic WACO Field and Aircraft Company and the many other things to do and places to visit around the Air Museum.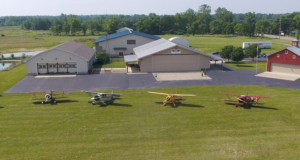 WACO (Weaver Aircraft Company) Field is an airport located in Troy, Ohio that was the site of the former WACO aircraft factory. The company was known as the largest manufacturer of civil aircraft in the country in the late 1920's and early 30's, and the factory produced more than 10,000 aircraft during its lifetime. Today, the airport serves as a hub for general aviation activities and offers a range of services, including fueling, maintenance, and flight training. Visitors can also explore the WACO Air Museum, which features vintage airplanes and exhibits on the history of the company.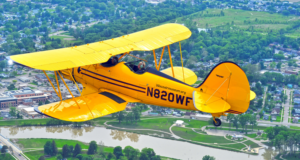 WACO Field hosts Ride Weekends where aviation enthusiasts can take a ride in vintage airplanes, such as the WACO biplane. These rides provide a unique opportunity to experience the thrill of flying in an aircraft. The pilots are experienced and knowledgeable about the history of the planes, making the experience both enjoyable and informative. Ride weekends typically take place on Saturdays and Sundays from 10 AM to 2 PM. Pricing varies depending on the type of ride you choose, with prices ranging from $50 to $200. It's important to note that reservations are required in advance, as these rides tend to fill up quickly. So if you're looking for a unique and exhilarating experience, consider booking your flight.
After you're finished taking to the skies in a Biplane, stop in to the Museum Gift Shop and grab a souvenir like a hat, shirt, or a "sunny" pin to help you relive your adventure. Along with the in-person Museum gift shop the Museum's website offers multiple online store options for customers to choose from as well. Gift Shop Items, Hats, Biplane Rides, Toys, Admission, and Summer Camps. If you're looking for something specific the "store" might just be your best bet! Customers should note that some online items may only be available for purchase in-person at the museum's physical location.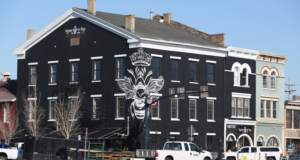 Agave & Rye in Troy offers a unique and fun dining experience. Guests can expect to enjoy delicious and creative Mexican-inspired cuisine – like the Korean BBQ Taco or the Nashville Hot Chicken Tacos, along with a wide selection of tequilas and cocktails like their famous Smoked Pineapple Margarita. The restaurant also offers vegan and gluten-free options for those with dietary restrictions. With friendly service, a lively welcoming atmosphere, and an impressive selection of food and drinks, Agave & Rye is a great choice for a night out with friends or a casual dinner or lunch option with family.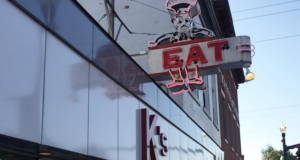 Looking to keep with the historic theme? With over 80 years of history in the area serving delicious food made from their tried-and-true family recipes, K's Hamburger Shop is a classic American diner that offers guests a taste of nostalgia with every visit. Serving the Best Burger in Miami County for Years the menu features a variety of classic diner fare, but the star of the show are the burgers. Guests can enjoy juicy, handmade burgers that are cooked to perfection and served on a soft bun with all the classic toppings. For a truly authentic experience we recommend ordering a side of fries and a milkshake to wash it all down. The atmosphere is cozy and welcoming, making it the perfect spot to grab a bite with friends or family. They also serve breakfast all day for our bacon & egg lovers.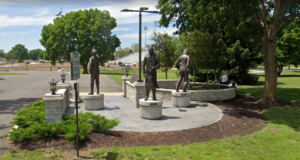 After lunch head over to the Pioneers of Aviation Statues which honor the Wright Brothers and other aviation pioneers who contributed significantly to the field of aviation. Guests can experience a unique awe-inspiring outdoor exhibit that features larger-than-life bronze statues of these aviation pioneers. The exhibit includes interactive displays that allow visitors to learn about the history of aviation and the impact that these pioneers had on the field.The statues are located in Dayton, Ohio, which is known as the birthplace of aviation.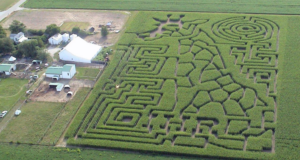 Stay overnight at the Idle Hour Ranch – a beautiful ranch that offers a unique experience to its guests. Visitors can enjoy horseback riding on scenic trails, petting and feeding farm animals, and fishing in the pond. Surrounded by picturesque nature, the cabin is well-equipped with modern amenities including a kitchen, bathroom, and comfortable sleeping arrangements. The peaceful atmosphere and beautiful surroundings make it an ideal location for a relaxing vacation, a romantic weekend getaway, or makes for a great day destination for families and animal lovers alike.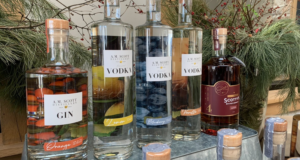 Experience the rich history and delicious flavors of Ohio's whiskey-making tradition at A.M.Scott Distillery. The historic distillery is a popular destination for whiskey lovers. Take a tour of the distillery and learn about the whiskey-making process from start to finish. Proudly made with Ohio grown fruits the distillery also offers tastings of their award-winning bourbon and rye whiskey. Visitors can purchase bottles of their favorite spirits in the gift shop, and enjoy a cocktail or two in the tasting room.