The National Aviation Heritage Area prepares for the April 8, 2024 Solar Eclipse
Check back often for updates. Heritage Area partners are hosting special events from dance parties to camping under the wing.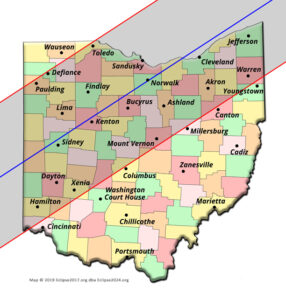 Sites expected to have significant programming on April 8, 2024:
Other unique solar eclipse programming includes:
Dayton Philharmonic's Total Eclipse: The Sun and The Planets on April 5 and April 6, 2024. Tickets available now.
Consider reserving your hotel room early.
Hotel resources  near WACO Air Museum can be found here: Miami County Solar Eclipse 2024
Hotel resources Armstrong Air & Space and Airstream Heritage Center can be found here: Auglaize County Solar Eclipse
Lots of viewing areas and hotel resources in Shelby County found here: 2024 Solar Eclipse Shelby County Style
Hotel and event information in Montgomery County (City of Dayton) can be found here: Dayton CVB Solar Eclipse
For safety information, please visit the Ohio Emergency Management Agency.