B-25 Champaign Gal Rides at Grimes Field (I74) Urbana, Ohio on August 26th!
Come get an up close experience with the B-25 Champaign Gal this weekend at Grimes Field.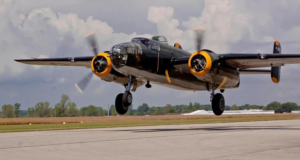 The B-25 Champaign Gal is a true piece of history. This iconic aircraft was used heavily during World War II, and you have the opportunity to take a ride tour the bomber's cockpit, crawl up under the nose to see the inner workings, and talk one-on-one with the pilots of this historic warbird.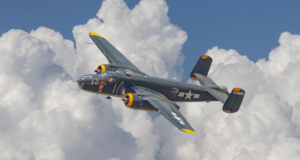 This coming Saturday August 26th at Grimes Field! You'll need to reserve your seat, which you can do here – and we promise it is something you won't soon forget. The majority of your ticket purchase is a tax-deductible donation. All B-25 Champaign Gal passengers will receive a complimentary one-year Membership in the Champaign Aviation Museum!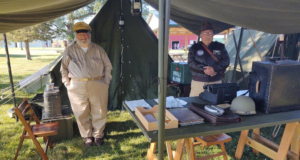 Additionally, on the 26th – at the Champaign Aviation Museum there will be a living history presentation of the 801st Medical Air Evacuation Squadron in the Philippine Islands during the Pacific Theater of Operations of World War II, through Dec. 1944.  This demonstration is performed from a first-person perspective, in that living historians assume the roles of individuals who would have been with the 801st during WWII.  Using talks and displays, the group presents the process of medical triage and evacuation of wounded soldiers through Administration, Flight Surgeon, Flight Medic, Field Medic, Flight Nurse, Chaplain, and War Correspondent.
Buckle up for this fun opportunity to get up close and personal with aviation history. In addition to B-25 rides there will also be other vintage aircraft on display. You'll be able to experience the same sights and sounds that the brave men and women who flew these planes experienced during World War II.
Don't miss out on this unique opportunity to experience a piece of history firsthand!
To learn more about the Champaign Aviation Museum and the Champaign Gal, you can visit https://www.champaignaviationmuseum.org/