Spend the day exploring Aviation & Aerospace History at the Armstrong Air & Space Museum in Wapakoneta.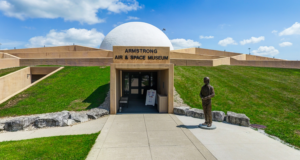 When visiting the Armstrong Air & Space Museum, you'll gain a new appreciation for the accomplishments of Neil Armstrong – the first man on the moon, and all the men and women who defied gravity and helped make air and space travel a reality.  The museum features exhibits that take visitors on a journey through the history of aviation and space exploration, including a replica of the Wright brothers' plane and Armstrong's Gemini 8 space capsule. Visitors can also experience a simulated lunar landing and explore the museum's collection of artifacts and memorabilia related to Armstrong's life and career. The museum offers a unique opportunity to learn about the history of space exploration and the achievements of one of the most famous astronauts of all time.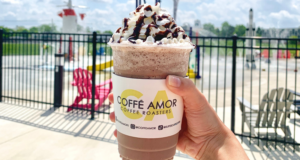 Before heading to the museum, grab a coffee at Coffe Amor (caw'FAY AH'mor) Roastery & Cafe. This charming little coffee shop is so much more than just coffee. Roasting with a Cause, Coffe Amor is a tool to share faith, hope, love… and coffee to everyone they come in contact with. When guests visit, they can experience a cozy atmosphere, exceptional customer service, and indulge in a variety of coffee drinks (like a White Lavender Latte) made from freshly roasted beans. In addition to coffee, the cafe offers a selection of tea, pastries, and light bites. Guests can also purchase bags of coffee beans to take home and enjoy. The cafe is open Monday to Saturday from 7am to 6pm and Sunday from 8am to 2pm, making it a perfect spot for a morning pick-me-up or afternoon break.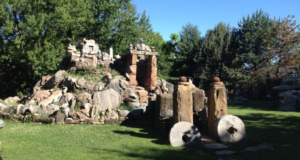 On your adventures, take a peek at The Temple of Tolerance – an unexpected and well-hidden, unique and intricate "back-yard wonder" structure that makes you feel like you've just stepped foot on an ancient site in Arizona, or Mexico. The site was built by Jim Bowsher, a retired art teacher, as a testament to tolerance and acceptance of different beliefs and cultures. Free and Open Daily, The temple features various religious symbols, including a Star of David, a cross, and a crescent moon, among others. Visitors can explore the temple's interior, which is decorated with colorful mosaics and stained-glass windows. The site also includes a meditation garden, a labyrinth, and a peace pole. The Temple of Tolerance is a beautiful and peaceful place that promotes unity and understanding among all people.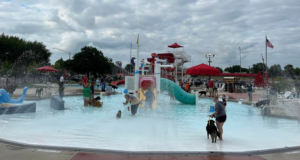 If you're traveling with the family or a group of friends in the warmer months, The Wapakoneta Water Park would be excellent! The water park offers a variety of activities for visitors of all ages. The park features a wave pool, multiple water slides, a lazy river, and a children's play area. There are also picnic areas and concessions available. The park is open from Memorial Day weekend through Labor Day weekend, with hours varying throughout the season.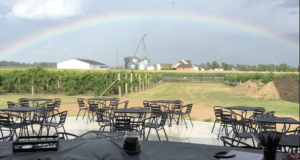 With three acres of French-Hybrid grapes Five Vines Winery is a charming picturesque winery that makes for an extraordinary backdrop for a romantic picnic, or a fun afternoon with friends. Visitors can enjoy a variety of delicious wines in a cozy and rustic atmosphere. The beautiful tasting room is open to the public, and their friendly and knowledgeable staff is always happy to help you pick a bottle or two to take home with you. In addition to wine tastings, the winery also offers live music events and food trucks on weekends. Hours are Thursday and Friday from 4pm-8pm, Saturday from 1pm-8pm, and Sunday from 1pm-5pm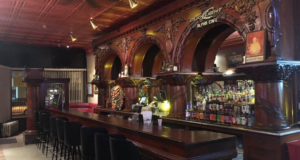 Grab dinner or a drink at The Alpha Café. With a 1893 hand-carved back bar as the leading historical attraction, The Alpha Café has been operating in downtown Wapakoneta for nearly 130 years. The Alpha itself is a beloved institution; from the friendly service to the daily lunch specials, its longevity is steeped in rich tradition, stories, and personal narratives. Stop by the Café and enjoy the food, appreciate the history, admire the architecture and savor the tastiest 129-year-old tradition you'll ever try.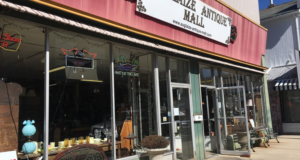 Discover a hidden gem at the Auglaize Antique Mall. Visitors can expect to find a wide variety of unique and vintage items throughout the many booths. From furniture to jewelry, the mall offers items from different eras and styles. The staff is knowledgeable and friendly, the mall is clean, organized, and well-maintained making the shopping experience enjoyable. The mall is clean, organized, and well-maintained, with ample parking available. The Auglaize Antique Mall is a must-visit destination for antique lovers and collectors in the area.